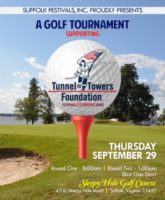 Peanut Festival Golf Tournament
Suffolk Festivals presents this golf tournament in support of the Tunnel to Towers Foundation. Breakfast, lunch and Awards Banquet are included in registration fee. Registration deadline is 9/23/2022.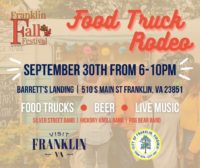 Food Truck Rodeo
The Franklin Fall Festival is right around the corner and this year will kick off the first annual Food Truck Rodeo!  Friday evening come taste menus from up to 10 different food trucks, enjoy live music from Silver Street & Hickory Knoll w/special guest Hog Bear!
Dates: September 30, 2022
Time: 6:00pm – 10:00pm
Location: Barrett's Landing Park, downtown Franklin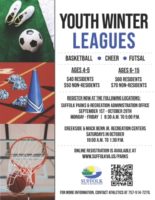 Suffolk Parks  & Recreation
Registration is underway for their Youth Winter League, featuring basketball, cheerleading, and Futsal, which is a modified form of soccer.
Dates: Registration is open from September 1 – October 29th. 
Location: Register in person at the Parks & Rec Administration office Monday-Friday, from 8:30am – 5:00pm. Registration will also be held at Creekside Rec Center and Mack Been Jr. Rec Center every Saturday in October from 10am – 1:30pm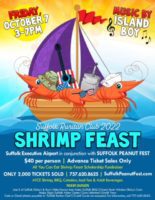 Suffolk Ruritan Shrimp Feast
Always a fun event as the prelude to the Suffolk Peanut Festival. All you can eat shrimp, barbecue, coleslaw, ice tea and adult beverages and live music from Island Boy! Tickets are $40 in advance only. Only 2,000 tickets will be sold, so buy yours today! Tickets available at many Suffolk businesses, by phone at 757,620.8625 or suffolkpeanutfest.com
Dates: October 7, 2022
Location: Suffolk Executive Airport
Time: 3pm – 7pm
More: https://secure.acsevents.org/site/STR?pg=entry&fr_id=102342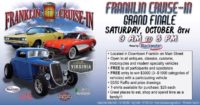 Franklin Cruise In Finale
Franklin Cruise In Finale will be Saturday, October 16th from 9:00 am – 3:00 pm. This will be one of your last chances of summer to enjoy car enthusiasts meeting in a family-friendly environment. Open to all makes, models, and years of cars, trucks, and bikes.
Dates: October 8, 2022
Time: 9am – 3pm
Location: Main Street Franklin (at Fire Station)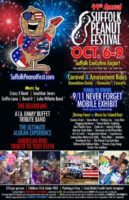 Suffolk Peanut Festival
The 44th Annual Suffolk Peanut Fest promises plenty of family fun! Enjoy concerts, amusement rides, tethered hot air balloon rides, the Kent Family Circus, contests and competitions, a demolition derby, the peanut cup auto cross, motorcycle rally, fireworks and much more! Don't miss the 9/11 Never Forget Mobile Exhibit, a moving tribute to those lost on September 11th. General admission is $10 per person; ​Children 10 & under are free. Parking is free.
Dates: October 6-9, 2022
Location: Suffolk Executive Airport
More Info: http://www.suffolkpeanutfest.com/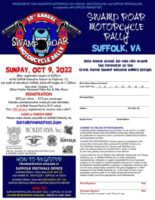 Swamp Roar Motorcycle Rally
Boykins PumpkinFest
Come to the 12th Annual Boykins Pumpkin Fest where memories will be made with wholesome family events, activities and entertainment. To start the day there will be a ribbon cutting of the new Blessing Brick Walkway in the mini park. Tiny Miss and Little Miss Pumpkin Fest Pageant, followed by a costume parade. Enjoy vendor , bounce houses, petting zoo, games, hay ride , cake walk, 50/50 raffle and livre music. Registration for the Pageant is open until October 1st!
Date: October 15, 2022
Time: 10am – 5pm
More: https://www.visitfranklinsouthamptonva.com/upcoming-events/2022/10/boykins-pumpkin-fest-2022-3-1/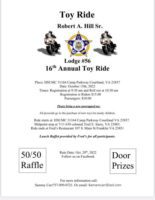 Robert A. Hill Sr. Toy Ride
The Robert A. Hill Sr. FOP Lodge #16 in Courtland is sponsoring their 16th annual Toy Ride for local children in need. Enjoy a fun ride starting a HUMC in Courtland and ending at Fred's in downtown Franklin, plus  50/50 raffle, door prizes and more!
Date: October 15, 2022
Time: 9:30am registration
More: Sammy Carr at 757-899-0721 or email: [email protected]
Chippokes Harvest Festival
The 9th annual Chippokes State Park Harvest Festival will feature food & craft vendors, hayrides, heritage craft demos, kids activities, antique tractor pulls, free entertainment, and more!
Date: October 15, 2022
Time: 10am – 5pm
Location: Chippokes State Park. 695 Chippokes Park Road/Surry, VA 23883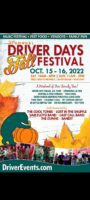 Driver Days Fall Festival 
Enjoy a weekend of family fun a the 9th annual event featuring a parade, crafters and food vendors, Diver merchants, hay ride, train rides and more!
Date: October 15 – 16, 2022
Time: 10am – 6pm Saturday / 11am – 5pm Sunday
Suicide Prevention Walk
Suffolk Out of the Darkness is sponsoring a community walk to fight suicide and raise awareness about mental health. Be a part of the movement – turn hope into action!
Date: October 22, 2022
Time: 10:00AM registration
Location: Bennett's Creek Park, 3000 Bennett's Creek Park Rd, Suffolk
More Info: https://supporting.afsp.org/index.cfm?fuseaction=donorDrive.event&eventID=8494
Haunted Hayride
Get ready for chills and thrills at this 6th annual fundraising event for the Sedley Volunteer Fire Department. Four frightful nights to enjoy!
Dates: October 21st, 22nd, 28th & 29th
Time: 7:30pm – 10:30pm
Location: Sedley VFD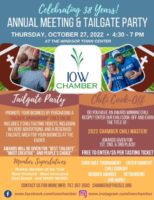 IOW Chamber Annual Meeting
The Isle of Wight Chamber is celebrating 38 years with a big annual member meeting featuring food and beverages, a chili cook-off, music, corn hole, and much more. 
Dates: October 27, 2022
Time: 4:30pm – 7:00pm
Location: Windsor Town Center at 23361 Courthouse Highway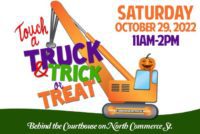 Touch-A-Truck
Bring your little goblins and ghouls for Touch a Truck & Trick or Treat to enjoy food, candy, games, trucks, and more! Children can see, touch, and explore their favorite big trucks and vehicles. Vehicles on display include construction trucks, emergency vehicles, tractor trailers, and utility trucks. WEAR YOUR COSTUMES AND BRING TREAT BAGS! Tickets are $5 each or 4 for $15 and are available on-site the day of the event.
Dates: October 29, 2022
Time: 11am – 2pm
Location: N. Commerce Street downtown Suffolk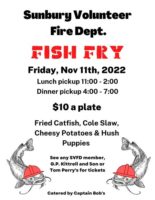 Fish Fry
Support the Sunbury Volunteer Fire Department by purchasing a fish plate, catered by Captain Bob's. Tickets are $10 per plate. Tickets available at G.P. Kittrell & Son, Tom Perry's or any SVFD member. Take out only!  
Date: November 11, 2022
Location: Sunbury Fire department
Time: Lunch: 11am – 2pm / Dinner: 4pm – 7pm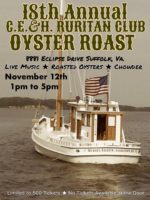 Oyster Roast
The 18th annual C.E. & H Ruritan Club Oyster Roast! Live music – Roasted Oysters – Chowder.  Limited to 500 tickets. Advance tickets only. 
Date: November 12, 2022
Location: 8881 Eclipse Drive, Suffolk, VA.
Time: 1pm – 5pm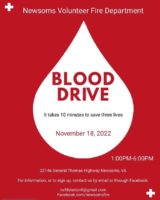 Blood Drive
The Newsoms Volunteer Fire Department is sponsoring this important Red Cross Blood Drive.
Date: November 18, 2022
Time: 1pm – 6pm
Location: Newsoms Firehouse/  22146 General Thomas Highway
Franklin Christmas Parade
Enjoy the magic of the holidays with Franklin's 'Gingerbread Land' themed parade on December 2nd! The parade will feature local businesses, marching bands, antique cars, local talents, and of course Santa himself! If you are interested in participating in the parade, please visit: https://www.franklinva.com/news-events/city-news/2022/09/christmas-parade-registration/ and submit the registration form to [email protected] by Nov 18th. 
Date: December 2, 2022
Time: 7:00pm
Location: Downtown Franklin